Content
JUKI Chip Mounter KE-3020VA
❙ Introduce of JUKI Chip Mounter
■ Chip: 20,900CPH chip (Laser centering/Optimum); 17,100CPH chip (Laser centering / IPC9850)
■ IC: 9,470CPH (Vision centering/MNVC)
■ From 0402(01005) to 74mm square components or 50×150mm
■ KE-3020VA: One multi-nozzle laser head (6 nozzles) plus; one IC head with CDS sensor (1 nozzle)
■ The use of electronic double tape feeders enables mounting of a maximum of 160 component types.
■ MNVC is standard
■ High-speed, on-the-fly vision centering (When using both high-resolution camera and MNVC)
■ High speed feeding of tray components (Option)
■ Longer sized PWB in X axis(option)
■ PoP placement(option)
❙ Specification of JUKI Chip Mounter
Model

JUKI KE-3020VA

Board Size

M size (330x250 mm)

L size (4FFF10x360 mm)

L-Wide size (510x360 mm)

*1

XL size (610x560 mm)

Applicability to long PWB (L size)

*2

800x360mm

Applicability to long PWB (L-Wide size)

*2

1,010x360mm

Applicability to long PWB (XL size)

*2

1,210x560mm

Component height

12mm

20mm

25mm(XL size)

Component size

Laser recognition

0402(01005)~33.5mm x 33.5mm

Vision recognition

Standard camera

3mm~74mm x 74mm or 50 x150mm

High-resolution camera

1.0 x 0.5mm

*3

~48mm x 48mm or 24 x 72mm

Placement speed

Chip

Optimum

20,900CPH

IPC9850

1

7,100CPH

IC

*5

9,470CPH

*5

Placement accuracy

Laser recognition

±0.05 mm (±3σ)

Vision recognition

±0.03mm(MNVC ±0.04mm)

Feeder inputs

Max.160 in case of 8mm tape




(on a Electric double tape feeder)

*6
*1. L-Wide size is optional
*2. Applicability to long PWB is optional.
*3. KE-3020VA : When using high-resolution camera. (option)
*4. Effective tact : The IC placement speed indicates an estimated value obtained when the machine places 36 QFP (100 pins or more) or BGA components (256 balls or more) on a M size board. (CPH=number of components placed for one hour)
*5. Estimated value when using MNVC and picking up components simultaneous with all nozzles.
.MNVC is standard in the KE-3020VA.
*6. When using Electric double tape feeder EF08HD.
*PWB size XL will be KE-3020V.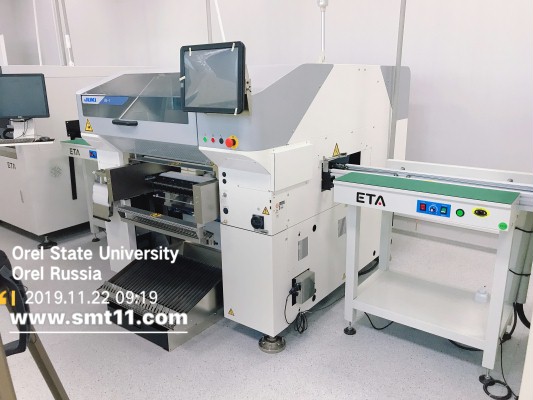 ▽
ETA Saudi Arabia customer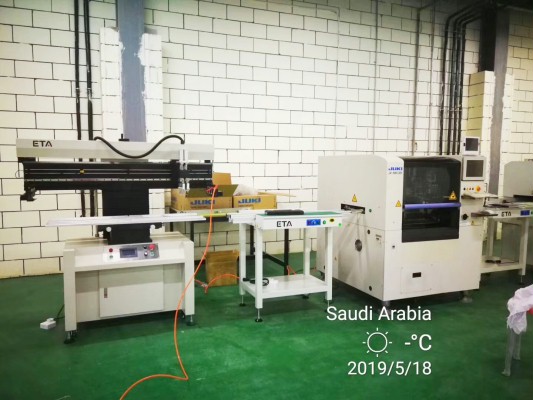 ▽
ETA New Delhi, India customer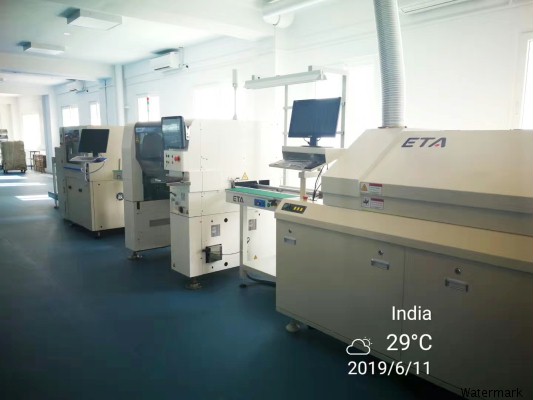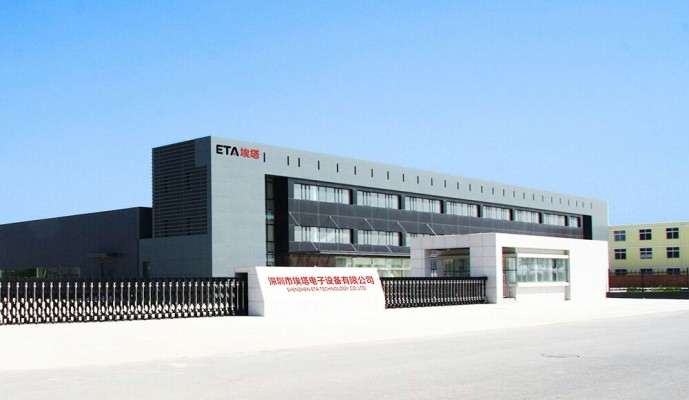 ETA is the SMT machine supplier with professional 25-year-experienced sales and after sales team, providing SMT solutions including pick and place machine, reflow oven, SMT stencil printer, SMT line and wave soldering machine.
We also is the partner of JUKI pick and place machine and Hanwha/Samsung pick and place machine, can provide the best SMT technical services and accessories support for JUKI, Hanwha/Samsung, Yamaha, Panasonic brands.
Successful Experience:
Eta's Customer In 35 Countries Around the World
1. We Have Been Helping Customers To Build a Lot of New Factories Around the World.
2. Training More Than 500 Experts and Technician for Customers.
3. Became the Most Reliable Chinese Partner for You.
For SMT Factory Setup, We Can Do for You:
1. We Provide Full SMT Solution for You
2. We Provide Core Technology With Our Equipments
3. We Provide The Most Professional Tech Service
4. We Have Wealthy Experience on SMT Factory Setup
5. We Can Solve Any Question About SMT
❙ ETA SMT Machine Exhibition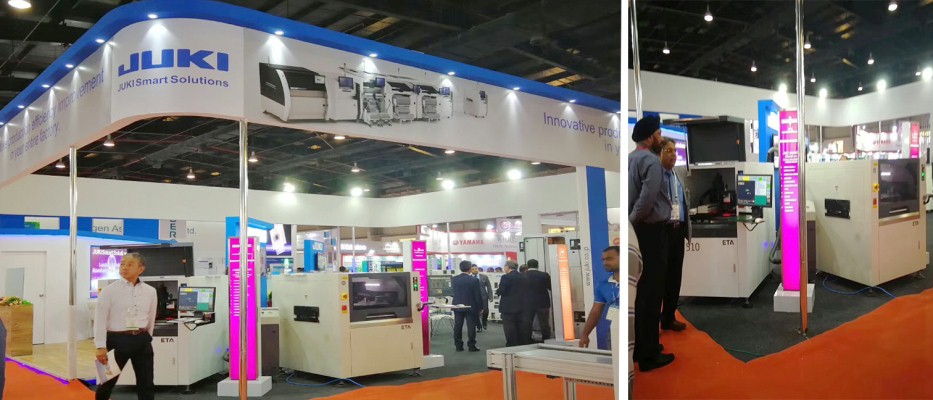 ❙ ETA SMT Machine Certificate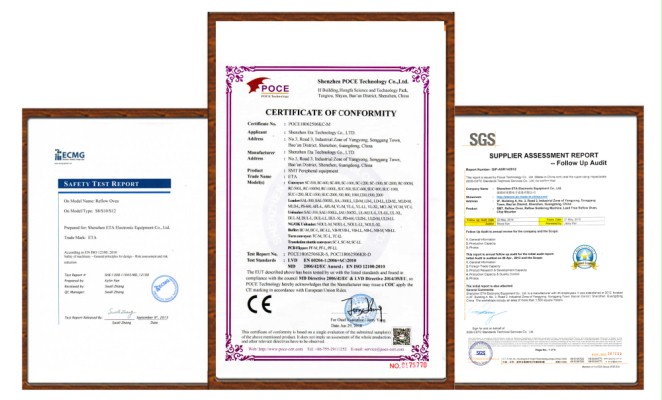 ❙ ETA Global Service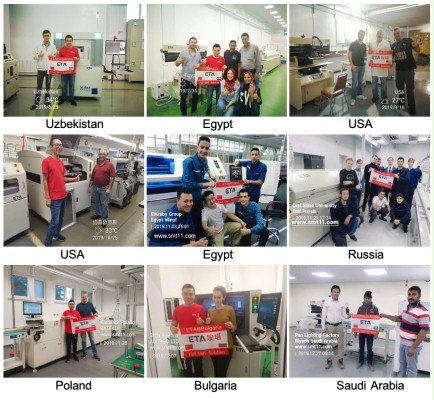 ❙ Customers' Feedback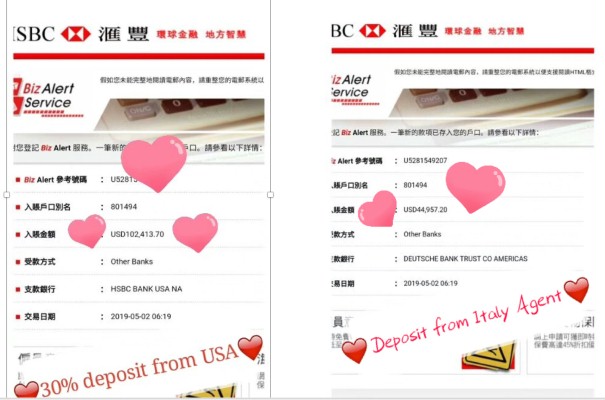 ❙ FAQ
Q: What we can do for you?
A: Total SMT Machines and Solution, professional Technical Support and Service.
Q:Are you a trade company or a manufacturer?
A: OEM & ODM service are available.
Q: What is your delivery date?
A: The delivery date is about 35 days after receipt of payment.
Q: What is your payment terms?
A: 30% deposit in advance and 70% balance before shipment.
Q: What your main customers?
A: Huawei,Foxconn,Vtech,Sumida,Kemet,Vishay,Bosch,Canon.
A: Leading SMT Supplier in China; Trade assurance to USD 560,000+; Professional after-sales service team.